Young Professional's Board Fall Fund Raising Event!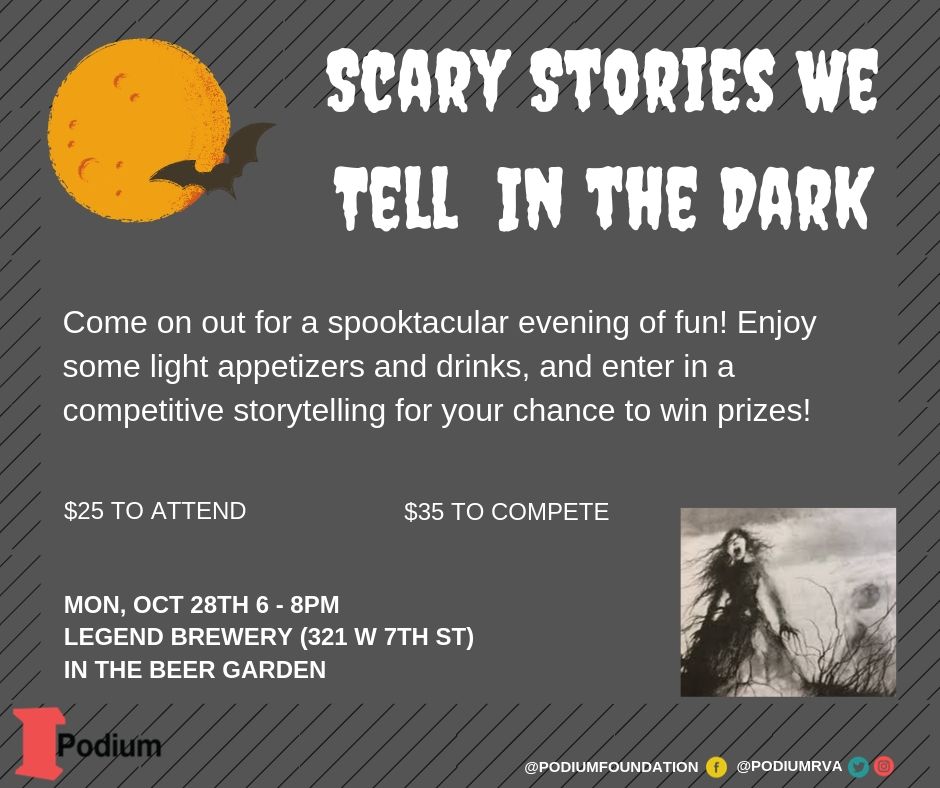 The Podium Young Professional's Board is having a fund-raising event and YOU'RE invited! We are gearing up for an evening of networking, socializing, drinks, and of course, terrifying tales.


Do you remember reading the horrors of Alvin Schwartz? Join us at Legend Brewing Co on Monday, October 28th, to support Podium's Fall Youth Writing Programs! Choose a story from Schwartz's collection, provided on site. Sign up to read your story solo or in a pair and compete for Top Storyteller! Prizes go to First and Second Place! Enjoy the nostalgic scary stories, drinks, and light appetizers!



Schedule

6 - 6:20pm: Welcome and competition sign up

6:20 - 6:40pm: Story selection and practice; review of rules

6:40 - 7:40pm: Scary storytelling

7:40 - 8pm: 1st and 2nd place awards!



Also, many thanks to our friends at Rest in Pieces- Richmond's premier oddities shop for sponsoring the event and judging the competition. They will also be providing a special trinket as one of the first place prizes. We appreciate your help and contribution!

All of the Bee's proceeds benefit Podium's after-school and summer writing programs for Richmond youth. From providing students with writing workshops to practice skills to showcasing their talent through youth-created literary journals and 'zines--our city's youth learn essential communication skills and gain the confidence to succeed now while preparing for success in college and beyond!

We couldn't do what we do without you. Thank you!